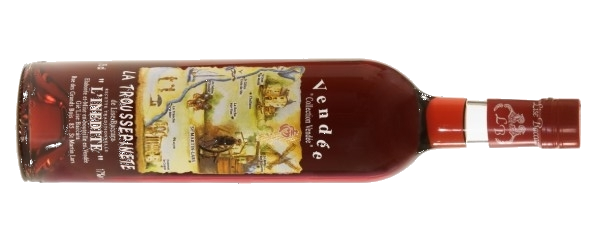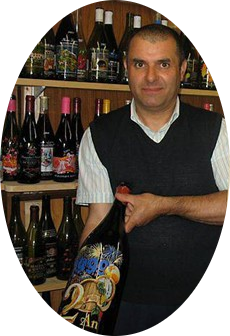 Hello,
I am buttiserigraphile, a word specifically invented to designate collectors of screen-printed bottles.
What is a screen-printed bottle?
Serigraphy (from Latin sericum [silk] and from Greek graphein [writing]). It is a bottle with an impression that uses silk screens interposed between the ink and the support.
The supports used can be varied and not necessarily planar. Nowadays, screen printing having become industrialized, the raw material is mainly enamels, precious metals
(OR 18 or 22 carats) or organic ink (endangered). Mass production is done by 4, 8 or more color machines with very fine canvas stencil frames. Screen printing machines can be circular or in line, they are mostly Italian brand.
How do you catch this "disease"?
It started with a gift, a beautiful screen-printed bottle of Troussepinète from my department, Vendée, now over 33 years ago. Then then, a second, a third, we've heard it all before ... (it's the hellish spiral) We are starting to take a certain interest in the artistic patterns of screen printing and we get attached very quickly! Nowadays, the internet tool boosts the search for collectors, screen-printed bottles, documentation (the authors, the origin of the container, the designers, the producer, etc.)
The "puzzle" happens very quickly!
It's a very invasive collection in terms of volume, as you might have guessed! I started by building linear shelving in my cellar but very quickly the lack of volume occured, just over 550 containers only found refuge there. After hard negotiations with my wife (whom I thank) we decided to transform a summer room (outside our house) into an exhibition room for the new containers. So, "re-belote", we built new linear shelving to accommodate the new containers. To date, more than 2300 containers stand proudly in the exhibition hall. For information, the shelves represent almost 200m of shelves if they were placed end to end! To this day, the showroom can no longer receive containers, there is no space left!!! I already store more than 1,500 containers in plastic boxes until better days come ... A project is underway for a new showroom (having a lot of outbuildings on my property), with an area of ​​50m2, this new showroom will allow the installation of the entire collection and especially enable us to let the public discover this passion. Unfortunately, this project is planned for when I will be retired, which is very close but suspended from the tribulations of our eminent politicians ... (60 years, 62 years, 65 years, ...)
How do you get the screen-printed bottles?
_ most simple way in the world, the glass containers of the recycling centers (meager booty ...)
_ by word of mouth, very effective, but remains quite local!
_ all sorts of fairs, garage sales, flea markets, car boot sales, etc. _ large retailers, wine cellars, delicatessens, etc.
_ the internet, social networks, advantage: it's local, national and European as for me.
What does the flask matter, as long as we get the drunkenness? (Alfred de Musset)In September 2003, I decided to create a website dedicated to my collection of screen-printed bottles in order to make people discover and share this passion little known to the general public. Indeed, collectors of this type are not legion in France (a dozen collectors with a volume between 2000 and 5000 containers would be listed and many small collections between 100 or 200 and 500 containers)
The creation of the website triggered the purchase of a camera in order to list and archive each screen-printed container for an easier search as you can imagine ... Thanks to my website, my collection has taken a boost in the space of 17 years because at website launch I only had 278 screen-printed containers ... (~ 20 times more to date, almost 4,550 )
The website allowed me to weave "a web of collectors and individuals" all over France and outside of France with whom I carry out exchanges (or purchase / sale) and very nice meetings. Loyalty with certain collectors dates back to more than 20 years! I am proud of my collection, since 2009, television reports, press articles and exhibitions succeeded one another, happy with my little "fame" in this unusual world!
New step in 2020:
The website dating from 2003 (two versions in 17 years) entirely created, produced by my own care is living its last days because it no longer meets the current requirements in terms of website.
A 3.0 version will be released with a new extension, indeed it will no longer be a .com but a .eu
This will sit on a secure hosting with SSL certificate, optimized for smartphones and tablets, bilingual (French-English) and programmed in Php language and no longer Html.
The Administrator will have a lot on his plate, ie muggins here, but the collection is worth it!
The collection is very difficult to estimate, what does the moon matter when you have the stars !!!
What is most important to me, the next screen-printed bottle ...
But in fact, why the Cave du P'tit Bouche?
P'tit Bouche was my childhood nickname because I am the son of a butcher, the proof HERE
Thierry TEILLET
May 2022 (maj)
MSW 3.0 Tous droits réservés 2003-2023©cave-aisne.eu Translator: CAILLETEAU Séverine
---
---